French 18th Century court dress – part 1
My first big project may be a bit more than I can take, but I have been learning things on the way so that may make it worthwhile.
To start this my inspiration was this 18th century dress from the Met collection. Fortunately the website also does high-quality images to get right down to fine details.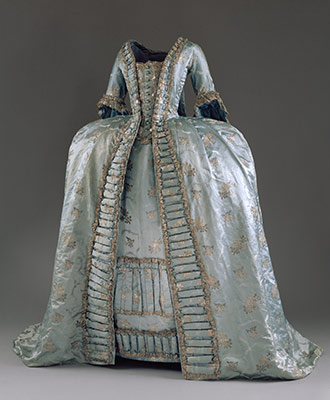 The pattern I am basing this on is Simplicity 4092, it does have a zipper to close at the back which isn't very accurate (zippers being invented around the 1940s), but we'll cross that bridge when we come to it. The dress pattern also comes with a pattern for the pocket hoop panniers, but I decided to start a bit simpler with these colonial hip pillows I purchased from Ebay.
For fabric, I went to the furnishing section of Spotlight and purchased some tapestry Jacquard. Six metres all up (initially I purchased only three metres then had to go back the other day to get another three metres as I ran out that night).
I used the instructions from American Duchess to make a petticoat to fit over the panniers. For fabric I used an old pair of curtains that had never been used. They had the necessary length and width to fit over the panniers and still have plenty of fabric left to be full.
I was making the skirt on a bit of a time limit and I followed the instructions to just make the underskirt which secured at the back. This did make it rather heavy to wear and did come down when I wore it at our costumed event. The hem was also very short and curled up.
So I used the same method for the underskirt as I used for the petticoat. Two ties securing the waist rather than just one. This made the skirt sit a lot better and looked more authentic. I also added a panel to the front to give it length and weight.
That done, it was onto trimming and decorating!